Who is Tosoh Quartz?
Tosoh Quartz Corporation was founded in 1936 as the first silica glass manufacturer in Japan.
We have three domestic manufacturing facilities in Yamagata Prefecture (located in Yamagata City, Yonezawa and Sakata) and overseas manufacturing subsidiaries in Taiwan and Korea. We also have domestic sales offices in Yamagata, Tokyo, Toyama and Sendai, and overseas sales offices in Seoul and Hsinchu (Taiwan).
Based in Yamagata for more than 85 years, we have constantly strived to develop cutting-edge quartz processing technology.
Most people do not know much about quartz glass.
Quartz glass is all around you and plays an essential role in your everyday life.
For example, processed quartz glass is indispensable for making semiconductors, which serves as the brain of smartphones and tablets.
Quartz products are essential for making your home's TV.
Precision parts made of quartz glass play an important role in many diagnostic/analytical instruments used in hospitals.
We may not notice it, but quartz glass is essential to our everyday life.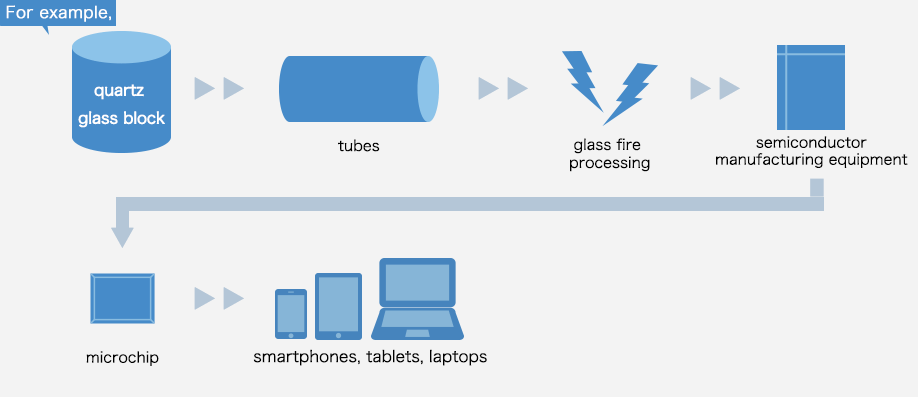 Tosoh Quartz group continues to expand globally.
Based in Yamagata, Tosoh Quartz Corporation is active all around the world.
Tosoh Quartz Corporation is a member company of global chemical and specialty materials company Tosoh Corporation.
Working closely with Tosoh Corporation's Advanced Materials Division, we have combined forces with our Tosoh partners to establish a reliable system for supplying high quality quartz products.
※Established in 1935, Tosoh is listed on the First Section of the Tokyo Stock Exchange
We are a hybrid company that offers both commodities and specialty products.
https://www.tosoh.co.jp/